The Castle Rock Renewal Board of Commissioners is made up of the Castle Rock Town Council members. This ensures that urban renewal projects are consistent with the Town's vision and comprehensive plan.
Board of Commissioners
Jason Gray, Chair
Kevin Bracken
James Townsend
Jess Loban
Caryn Johnson
Jason Bower, Vice Chair
George Teal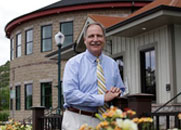 Staff
Bill Detweiler, Executive Director, has more than 30 years of experience as a senior administrator, landscape architect and community planner. He also directs the Town of Castle Rock Development Services Department, where he is responsible for planning, entitlements and development plan review.
Bob Slentz, Legal Counsel
Trish Muller, Treasurer
Lisa Anderson, Clerk